FFL JAGUAR
=FFL= Leader

USA
2511 Posts
Posted - Feb 04 2006 : 13:58:12
---



What makes us a Steeler fan? It's loyalty, love, dedication and philosophies all rolled into one.A belief that we stand out from the rest. Through thick and thin, winning and losing the passion always remains. We not only live for the Steelers, the Steeler resolve lives within us. There is a cliche that has taken hold,

"Once a Steeler fan, ALWAYS a Steeler fan." Steeler fans are born not bred. We are LOUD and we are PROUD we have tradition, Steeler fans have been through many a strife. We will win, lose or tie together but one thing you can bet on......

We are a Steeler fan til we die.



http://mafiosi.altervista.org/modules.php?
name=Content&pa=showpage&pid=91






It started last year after the AFC Championship loss at home
And was finished on Sunday in Detroit in the dome
Ben made the promise to our beloved Bus
To get him to come back for another year with us
We were doing pretty well until Ben couldn't start
And we lost some games and watched our season fall apart
After the Bengals loss we were all but done
There were 4 games left and we'd have to win every one
We played our hardest - backs against the wall
Played like we were used to - old school Steeler football
We earned the 6th seed in the playoffs - where everyone said we'd falter
No one knew that history was about to be altered
A chance to make up for some of our losses was the reason
That Revenge Tour became a nickname for our postseason
First came the Bengals - which was the last game we lost
This time Carson Palmer paid the unfortunate cost
It wasn't dirty - even Carson made that clear
Get well soon - so you can come back next year
We then traveled to Indianapolis for Revenge Part II
Manning and his Colts were dominated by Ben and crew
This game will definitely go down in history
The call on Troy's interception is still a mystery
This game could have also been the end for Jerome
But Ben saved the day with "The Tackle" in the RCA Dome
That win sent us to Denver to play at Mile High
Steelers luck in the AFC Championship games made us nervous - no lie
Beating the Broncos allowed our winning streak to continue
Letting us complete something no one thought we could do
The 6th seed Wild Card - playing on the Big Day
Beating the top 3 AFC seeds on the way
Ben stayed true to his promise - he brought the Bus home
We all had a feeling this would be the last stop for Jerome
The game started and unfortunately we weren't playing our best
Seattle Seahawks were putting us to the test
Some will debate that the refs stole this game away
But the Seahawks made their own errors - it just wasn't their day
Pittsburgh came back and made some great calls
How in the world did Hines catch some of those balls?
The fans have been waiting for this win for a really long while
Every time we think about it we just want to smile
There could be no better ending to this great story
Than to send the Bus out in a blaze of glory
Mission accomplished - back to Pittsburgh they come
Bringing home the Lombardi and One For The Thumb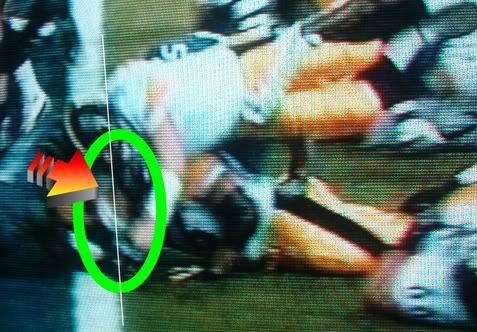 http://img.photobucket.com/albums/1003/Tiberian/beleg3ue.jpg
I am posting the steeler links here for some friends so its easy to find them. Go Steelers!!
Here we go Steelers here we go! are you Ready?
The Burgh is ready
The Fans are ready
The team is ready
Hell, our cats ready
Do you think those
seachickens are ready?
And if things look bad we can always call in the Reinforcements


I only wish he could Suit Up

Lambert's Hall of Fame Induction Speech

"If I could start my life all over again, I would be a professional football player, and you damn well better believe I would be a Pittsburgh Steeler."

http://www.mcmillenandwife.com/lambert.html

-- Jack Lambert --

Steelers Nation reaches far and wide!

Steelers Nation is deep behind real enemy lines, in Iraq, in the form of Terry Thomas hoisting his Steelers flag from the top of Saddam's West Baghdad palace.

Thomas, a fan from his youth in Bridgeport, Ohio, was sent to Iraq in the summer and fall of 2003. So the medic from the 728th Air Control Squadron got his Steelers souvenirs sent with him.

"So football definitely was a binding force. That's how I knew there were other Steelers fans out there," Thomas -- retired in Florida now -- said of the flags and Terrible Towels he spotted on tanks and tents. "Even during war, the Steelers are represented out there."


Videos:

Steeler Fight Song
http://skn5x.rmxpres.com/skn5x/viewer/NoPopupRedirector.aspx?peid=72fc3d72-af2a-4b3c-b486-19932d657408&shouldResize=False

Here We Go Superbowl Video 2006
http://www.youtube.com/w/NEW-Pittsburgh-Steelers-Here-We-Go-Music-Video?v=1EG9g0PpWWw

Our time has come!
http://www.youtube.com/w/Pittsburgh-Steelers-Had-Faith%21?v=LGPu4EayHcI&search=pittsburgh

Steeler Rally:

http://www.youtube.com/watch?v=mnwKSbC8itg

http://video.msn.com/v/us/v.htm?g=97678c7e-030b-41a3-91c5-5d12344e3619&f=rss33

Steeler Nation Super Bowl Bound
http://www.youtube.com/watch?v=P1WgNnxhOKc

Harrison hit video

http://www.solarfederation.net/video...-brownsfan.wmv

http://kdka.com/video/?cid=9


Steeler Nation



http://www.post-gazette.com/pg/06034/649152.stm

Black & Gold Gatherings for Out-of-Town Fans
http://www.post-gazette.com/steelers/steelerbars.asp


Mp3 Music Links:

Here we GO 2006
http://www.steelersinhoboken.com/Downloads/Fight_Songs/MP3/Here%20We%20Go%202006.mp3

One for the Tumb

http://www.scottpaulsen.com/scott/documents/OnefortheThumb.mp3

Steeler Boogie
http://www.steelersinhoboken.com/Downloads/Fight_Songs/MP3/Steelers%20Boogie.mp3

Steeler Nation

http://www.scottpaulsen.com/scott/documents/SteelerNation.mp3


Broncoback Mountain

http://www.scottpaulsen.com/scott/documents/BroncbackMountain.mp3

Steeler Polkas
http://www.dve.com/pages/steelers/audio/steelers_polka_2006.mp3
http://junaci.com/theterribleband/SteelBarrelPolka.mp3

Rap Mp3 :
http://www.pmemusic.com/index.html

Lots of steeler mp3s:
http://www.steelersinhoboken.com/Fight_Songs.htm


Wallpaper for your desktop:

http://img97.imageshack.us/my.php?image=steelerswallpaper8yu.jpg

http://www.steelersfever.com/downloads.html




Good Steeler Sites:

The 30 Best Players in Steelers History
http://www.mcmillenandwife.com/30_best.html

http://www.steelerfanatic.com/

http://www.post-gazette.com/steelersphoto/

http://news6.steelers.com/

http://www.steelergridiron.com/

http://www.mcmillenandwife.com/

http://www.steelersfever.com/downloads.html

http://www.steelersinhoboken.com/SuperBowlXL.htm

Game Rules: http://www.post-gazette.com/pg/06034/649152.stm

http://www.pittsburghlive.com/x/tribune-review/sports/steelerslivextra/

http://greatsportsrivalries.com/thesteelcurtain/thesteelcurtain_history

http://profile.myspace.com/index.cfm?fuseaction=user.viewprofile&friendid=28600451


Blogs:

http://benroethlisberger.typepad.com/roethlisberger/

http://kdka.com/steelersblog/?b_start=10


Forums:

http://discuss.pittsburghlive.com/viewforum.php?f=2

http://www.steelersfever.com/downloads.html#



[b]Pittsburgh attacked by Denver columnist:

http://www.post-gazette.com/pg/06020/641121.stm

http://blogs.rockymountainnews.com/denver/rockytalklive/archives/2006/01/so_not_butt_ugly_iii_1.html

http://www.rockymountainnews.com/drmn/nfl/article/0,2777,DRMN_23918_4400002,00.html

http://www.rockymountainnews.com/drmn/nfl/article/0,2777,DRMN_23918_4408137,00.html

http://www.rockymountainnews.com/drmn/news_columnists/article/0,1299,DRMN_86_4399014,00.html